The Ticonderoga-class guided-missile cruiser in happier times. Happier because Lt.Cmdr. Destiny Savage was likely performing a deep therapeutic massage (with a happy ending) on the skipper at the exact time this publicity still was taken.
How else would a girl with a mere "public policy degree" find herself a chief engineer?
Because this story just keeps getting more and more salacious.
Now clear your mind of impure thoughts and click here!

Phoebe Cates getting ready to take effective command of a U.S.S. guided missile cruiser
"The report also uncovered evidence that Gombert and Savage had formed a questionable relationship between a senior and junior officer. They hung out in his in-port cabin in civvies. She made his bed and cooked his meals in his private galley. They stayed in hotel rooms together and, in at least one instance, were seen on liberty holding hands."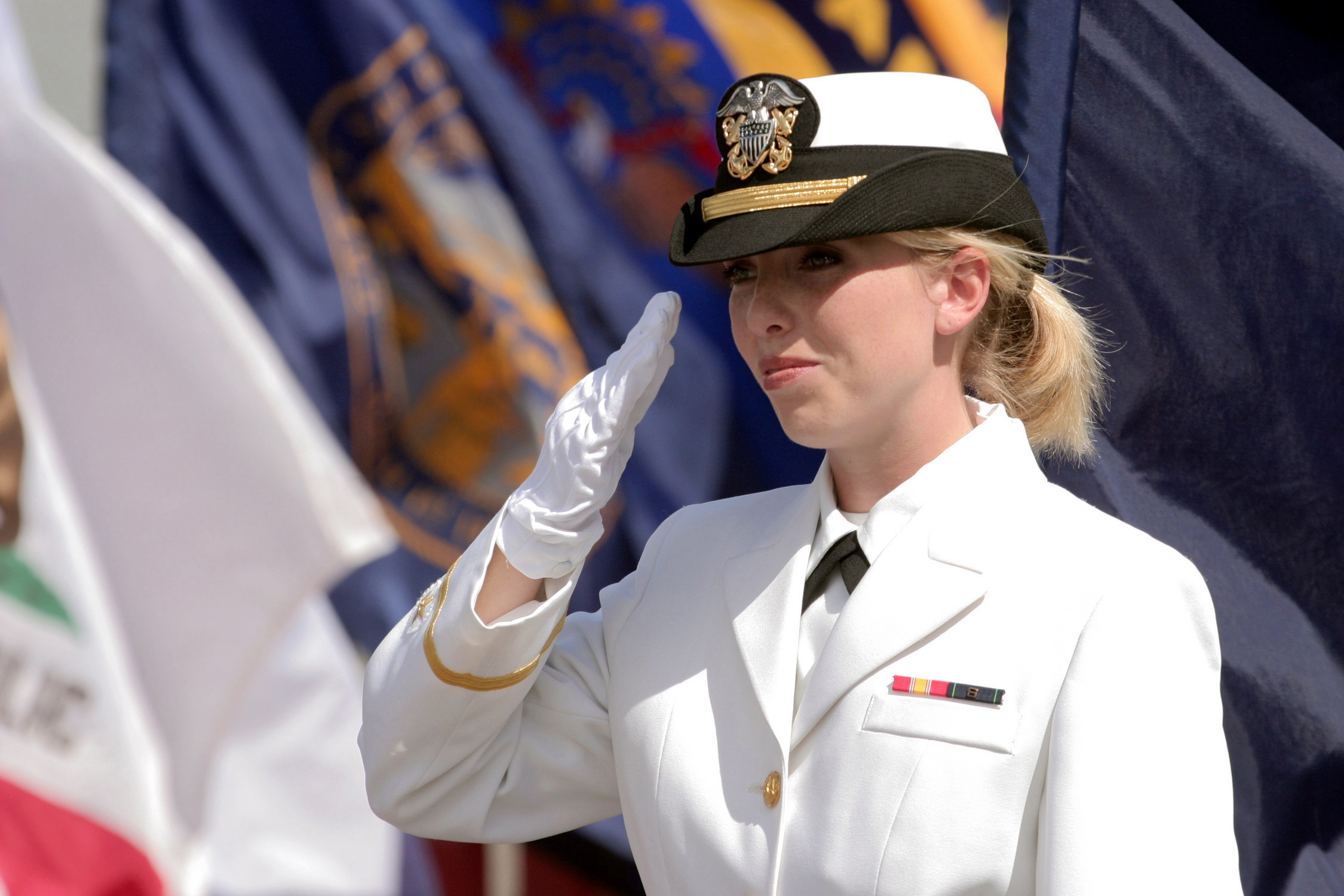 "Destiny Savage is like totally my real name! Now, can I drive the boat! PLEASE! I'll do anything!"
I must say, this does say A LOT for the sailors and master chiefs aboard that boat, in that they just continued on with their deployment with no Captain, no Executive Officer (caption is wrong – the boat sailed without one) and frequently without the skills of Lt. Cmdr. Destiny Savage (not her stripper name). Shockingly, the little Lt. Cmdr. "that could" might have actually been competent, as she led at least two replenishments at sea, where the cruiser took on fuel from an oiler as little as 150 feet away, in heavy seas, while the captain was locked in his cabin FOR ALMOST TEN 'EFFING WEEKS!
Vice Adm. Tom Copeman wrote:
"The violations revealed by the investigation, especially the blatant abdication of command responsibility on the part of the (commanding officer), are among the most egregious I have encountered in my 32-year career."
This is not the first time the USS Cowpens has destroyed U.S. Naval officer careers, and likely will not be her last, as THREE of her commanding officers have been ousted in the past four years.
All I can say is that we are all lucky nothing other than hijinks happened during that cruise!
Capt. Gregory Gombert, Viagra's Latest Spokesman
Destiny Savage is eyeing other careers too
EDIT: More dirt, especially if you like to read US Navy reports that start with WTFOMGBBQ!